Winter SolsticeTime to Push Back the Darkness
December 22, 2016
"I love the light for it shows me the way. Yet, I endure the darkness for it shows me the stars." –Og Mandino
Winter solstice marks the day with the shortest hours of light and the longest hours of darkness, and officially launches the season of winter. Many of us have already noticed the oppressive feeling of leaving for and returning from work without seeing the sun. Right now, you're probably already wishing it was summer again. Even though we can't control the seasons, we can change how we live through these winter months. For example, if your heater is playing it, it might be in your best interest to get it fixed. Just by looking into something as simple as ac repair chandler (if you live in this area of Arizona), you'll be able to find a solution to keeping warm this winter. Though winter is only just beginning, we're already yearning for more daylight. There's even a mood condition that affects some people in the winter, Seasonal Affective Disorder (SAD), linked to the shortened hours of daylight. SAD can really have an effect on a person, increase stress and bring about a low mood that they cannot shake off. It's thought that some strains of marijuana, like this strawberry shortcake weed strain, could alleviate symptoms like mood swings and stress, so those with SAD could consider this as a way of reducing some of their troubles, if it's legal where they are. Yet this period of waiting for the light is nothing new. In many ancient cultures, the shortest day in winter was a day to gather and celebrate. It meant that the community could now begin watching for the increase of light.
The term "solstice" means "sun stands still." It really has nothing to do with the sun's inertia, but is all about the tilt of the earth as it rotates on its axis. This year, winter solstice is today, December 22, for the northern hemisphere. Winter solstice has been celebrated throughout history with a wide variety of festivities. Famous celebrations from around the world include:
Polo Valodore-This Guatemalan tradition of "polo valodore" (flying pole dance) involves men climbing to the top of a very tall (50-foot) pole and performing a dance in honor of the sun god.
Stonehenge in England-For the winter solstice sunset, the sun's rays align with what was the central altar stone. The arrangement of rocks at this monument is visited every year.
Newgrange, Ireland-Location famous for a mound covering a series of underground tunnels and channels. During winter solstice, light pours into the main chamber because of the tilt of the earth.
Goseck Circle in Germany-A place of religious rituals and sacrifices. During winter solstice, the two gates on the outermost circle align with the light of the sunrise and sunset.
Saturnalia in Ancient Rome-Characterized by the reversal of what was typical: closing schools and businesses, releasing a grudge, forgiving an offense, absolving a debt, postponement of wars, slaves being served by their masters. Gifts were offered; candles and bonfires were also lit.
Feast of Juul in Scandinavian counties-A celebration marked by lighting logs (Yule logs) to symbolize light, warmth, and life. A piece of the log was kept for good luck throughout the year. In European countries, the Yule log was burned until nothing remained but ashes. The ashes were spread on the fields for fertilizer or under the beds to ward off sickness.
Maybe you can't make it to England or Guatemala. But you definitely make it to Greece. Thanks to e-mietwagenkreta car rental, they make hiring a car effortless so you can explore those unforgettable destinations! No worries. Many churches and local communities in the Midwest are celebrating Winter Solstice in their own way-with stage plays, dancing, masks, feasts, and festivals.
Also, Winter Solstice can easily be celebrated as a family: reading star stories, making star decorations, taking a family hike to find a yule log to burn. Decorate an outdoor tree with edibles for birds or with nest building materials. Make a popcorn and cranberry wreath to hang outside for the birds. Create illuminated ice candles for winter solstice to light the pathway to your home. Fill the ice lanterns with pine cones, berries, and edibles for the animals. Once the ice is formed they can be illuminated with candles, or with battery operated LEDs. Lights are a perfect way to celebrate the winter solstice. Holiday LEDs has blue lights a in a number of styles: blue rope lights, sapphire blue minis, blue icicles, and blue net lights-all to help you push back the darkness and celebrate the a renewal of the light. Blue LEDs go well with gold lights for the winter solstice.
"If winter comes, can spring be far behind?" -Percy Bysshe Shelley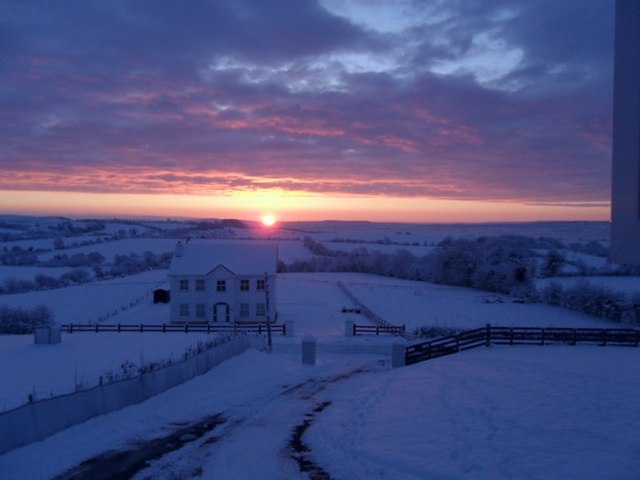 Sunrise on the winter solstice 2010, looking over Cavan Upper toward Bohanboy/Killygordon, Copyright © Sian Lindsey and licensed for reuse under the Creative Commons License